Late on October 14th, the" Central Academy of Drama Academy Award ( Drama )" award ceremony at the Poly Theater held successfully. College Party committee secretary Liu Libin, Dean Xu Xiang, Chinese Modern Drama Art Research Association vice president Wang Fulin, vice president of Liao Xianghong, vice president Xu Yongsheng, former college leaders Wang Yongde, Luo Jin scales and26 from the National Theatre delegationsattended the ceremony, I am chairman Shi Xianzhu was invited to attend the award ceremony.
President Shi Xianzhu attended the" Academy Award" ceremony
Famous alumni of Zhang Guangbei, Ren Ming, Lou Naiming, Wu Xiaojiang, Honglei Sun, Wang Xuebing, Jia Yiping, Lv Liping, Feng Gong, Wu Yujuan, Zhu Yuanyuan, Yue Hong, Chen Wei, Gong Lijun, Yuan Quan and performing a department director Hao Rong, deputy director Liu Hongmei, renowned teacher Jiang Wenli back to the scene.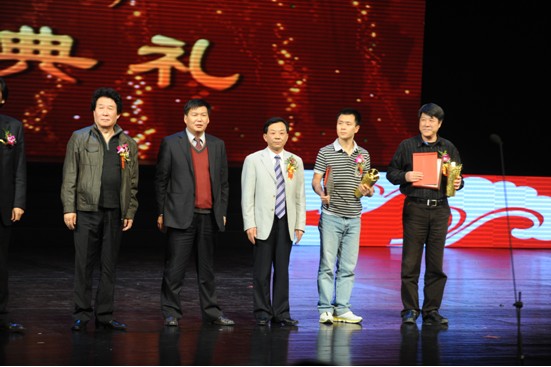 Awarded the award show field
President Shi Xianzhu and the domestic first-line actor Honglei Sun shakes hands with talk
Chairman Shi Xianzhu and TV actor Lv Liang to pose for photos
President Shi Xianzhu and China Poly Group Corporation Director Wang Xiaozhao to pose for photos
photosPresident Shi Xianzhu and the famous crosstalk artist Feng Gong to pose for photos
" Academy Awards ( Drama )" by the Central Academy of Drama set up, aimed to show in recent years Chinese drama creation outstanding achievement, recognition of outstanding performing arts talent, promote drama creation, research and teaching, to contribute to the prosperity of the drama art.The morning of October 15th, the first " Academy Awards" show creation seminar in college theater in the East Hall,26 from the national theatre group attended the seminar. On the meeting, delegate attending the meeting is right" Academy Award " to set up the highly," Academy Award" academic quality let you see the current drama should pursue, let everybody see hope, found the chord. The delegates with a rich performance practice drama creation spread out to discuss ardently, have said that the man of the theatre will continue to create a genuinely excellent works to attract viewers, and move the audience, let the drama art more beautiful tomorrow.